Introduction of Spicy and Sour shredded potato or Potato Floss
Shredded potatoes, spicy and sour shredded potatoes or potato floss is a popular food in so many countries nowadays. It was originally from Sichuan cuisine in China and is popular in Henan, Sichuan and other places. The raw materials are potatoes, peppers, white vinegar, etc. Although the price is cheap, the spicy and sour taste is everyone's favorite. Whether it is a family table or a restaurant, you can almost see it.                              
The skill of cooking Spicy and Sour Potato floss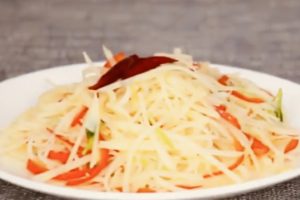 Have you tried to cook this kind of dish? Although the spicy and sour vegetable dish is ordinary, it is not easy to do well. How to keep the potatoes cook enough and keep crisp is the key. This has a close relationship with the choice of potatoes, the processing of potato floss, and the timing of the heat while it is cooking. It is best to choose new potatoes with high water content, and the potatoes should be put into the water a while after cutting. When you cook the potatoes floss, you need to stir them up and down frequently. If you learn those a few skills, you can cook the dish of potatoes floss like the chef cooked in a restaurant. Yay! You will reach the professional chef level.
Spicy is

first

key
The amount of pepper in the hot and sour potato floss should be appropriate. Be careful not to put too much. Too hot is easy to cause people to get "fire" on your skin, such as acne, skin infection.
Sour is

second

key
I like to use Chen vinegar (dark vinegar) instead of white vinegar to cook. Although the color is slightly darker, the scent of vinegar is far mellower than that of white vinegar. Although the color of the vinegar is better with white vinegar, the taste of white vinegar feels too strong. If your taste is too strong, I will choose the ingredients based on the taste.
Nutrition of Potatoes
The potatoes have rich nutrition and elements. The rich nutrition and elements can peace mind and make the skin to be more beautiful. It can improve gastrointestinal function, high blood pressure.
How to prepare potatoes before cooking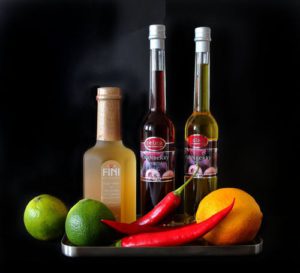 you cut potato, you need to cut two pieces first on the top of a potato, and then cut the cut side flat on the cutting board, so that the potatoes are flattened to cut out thick and even potato chips. When cutting potatoes, be sure to put them into the water basin immediately after you cut. Otherwise, the potatoes will change color. Potato floss must be clean for a few times to remove the starch till water is clear because the starch will stick to the pan when you fry.
Recipe of Spicy and Sour Shredded Potato of Potato Floss
Spicy and Sour Shredded Potato is one of our fast easy recipes for dinner. If you usually eat french fries, you can try to eat this way of cooking potatoes. It is tasty and healthy!  Yummy! The recipe will share as below:
Time: 10 minutes                         serve        1-2
Ingredients:
Main vegetables:
3 medium potatoes,
A few thin slices of ginger
2-3 cloves of garlic.
2-3 dry red pepper
1 red sweet pepper
1 jalapeno pepper
Seasoning ingredients: 
¼ tsp. ground cumin power,
¼ tsp. black paper
½ tbs. of brown sugar,
½ tbs. of vinegar,
¼ tsp. Of salt,
1 tbs. of olive oil.
Direction:
Wash potatoes and slice them.

Shredded potatoes, Potato floss

put the slices into a container with cold water for 1-2 minutes

Shredded potatoes, potato floss

and wash it for 2- 3 time in order to wash out the starch (sticky things), and drain the water out.

Shredded potatoes, potato floss

Slice the ginger,the garlic,  red sweet pepper and jalapeno pepper for use late.

Shredded potatoes, potato floss

put a wok on the stove with medium heat, add 1 tbs. olive oil until 80% heat, add ginger, garlic and dry hot red pepper into the wok and stir it till you smell it. And then,  add the sweet red peeper, jalapeno pepper, stir fry for 20 seconds.

Shredded potatoes, potato floss

add potatoes floss into the wok, stir fry for about 2 minutes.

Shredded potatoes, potato floss

Add ¼ tsp. ground cumin power, ¼ tsp. black paper, ½ tbs. of brown sugar, ½ tbs. of vinegar, and stir fry for 1-2 minutes. Add ¼ tsp. of salt and stir and taste if the salt enough for you.
Serve with white rice or something like bread, noodle or buns.

Shredded potatoes, potato floss
Tips:
This dish is a kind of mild spicy.
You can add more red dry hot pepper if you like very spicy food.
zzzzzzzzzzzzzzzzzzzzzzzzzzzzzz