A Story of Large Plate Chicken
Large plate chicken, a Large-Scale Chicken, or Dapan Chicken  is a kind of delicious spicy food, using the whole chicken, cooked with potato and spicy seasoning  red hot chili pepper. I ate this food a few years ago in Bejing, China.
According to a legend, in 1980, a man named Lee, a farmer from Shawan County, Xinjiang Uygur, he had a restaurant name "Man Penge" restaurant on the roadside, specializing in cooking spicy chicken. One day, a few employees of a Construction Company came to eat spicy chicken. Although they felt the spicy chicken was good, they always felt too little. When they saw that Lee had taken a whole chicken out of the back hall, they asked him to cook the whole chicken for them. However, the fried chicken pieces did not have such a large plate, and Lee used the plate of the noodles to be served. After the meal, the guests were very addicted, and the guests in the neighbors also asked for one. A large dish of chicken.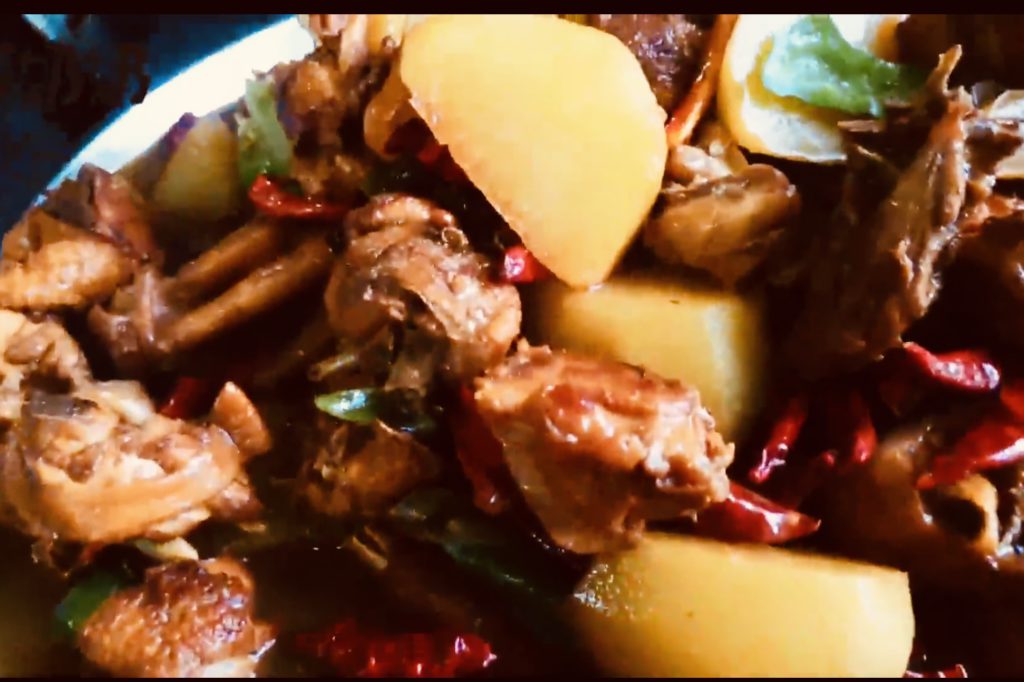 It is said that at first, the store wrote the menu on a small blackboard called "Spicy Fried Chicken". Later, more and more restaurants began to introduce this kind of chicken with large plates. The reputation of the large-scale chicken was spread. For a time, many "big-pan chicken" or "Large plate Chicken" restaurants emerged on both sides of the national highway in Shawan County.
In 1992, Zhang, the owner of Dapan Chicken Shop in Shawan Xinghua Village, first registered the brand "Dapan Chicken", a local dish, and started his brand.
After more than 20 years of development and evolution, in Xinjiang, not only can you eat the classic chicken "Potato Chicken", you can also eat the large plate chicken Deluxe Edition, the upgraded version of "Champignon Chicken, Pickle Chicken, Kidney Bean Chicken, Kelp Chicken, Deep-fried pheasant, frozen tofu large-sized chicken, chicken blood cake, large-sized chicken, etc., the fragrant large-panel chicken is matched with the glutinous rice and belt surface with Xinjiang characteristics, which is definitely a delicious. Reference to a website/.
The Dapan Chicken, Large Plate Chicken is very tasty and delicious food, the taste was still in my memory after I ate the first time. I learned to cook such food since then. Since someone in my family doesn't like spicy food, I have not cooked for a long time. Today I tried to cook this spicy fry Chicken, the idea was from Dapan Chicken, I will share my recipes with your guys.
Recipe of  Large Plate Chicken (Dapan Chicken)
Main Ingredients
½ of a whole chicken
3 potatoes
½ onion
1 green pepper
2 red sweet pepper
1 yellow sweet pepper
1 medium carrot
5 green onions
Seasonings Ingredients
5 dried red pepper
1 tsp Red hot Peppercorn
1 tsp of black peppercorn
3 Star Aniseed
2 tsp Bean paste
2 fingers big ginger, slice ginger finely
4 cloves of Garlic
1 Tbs. Soy sauce (dark)
1 Tbs. Bean Paste
2 tsp. Soy Sauce (light)
1 tsp. Salt
2 Tbs. cooking wine
½ can of Beer
3 Tbs. Olive Oil
Directions:
Wash all of the vegetable: Wash potatoes,  carrot, green peppers, sweet red fresh peppers, sweet yellow peppers, gingers, green onions; peel the skin of the potatoes, cut to big pieces, blocks (not too small);  cut the carrot to big pieces, blocks; cut green peppers, sweet red, yellow peppers to pieces; slice gingers finely; slice garlic finely.Wash half of the chicken, tear the fat, skin down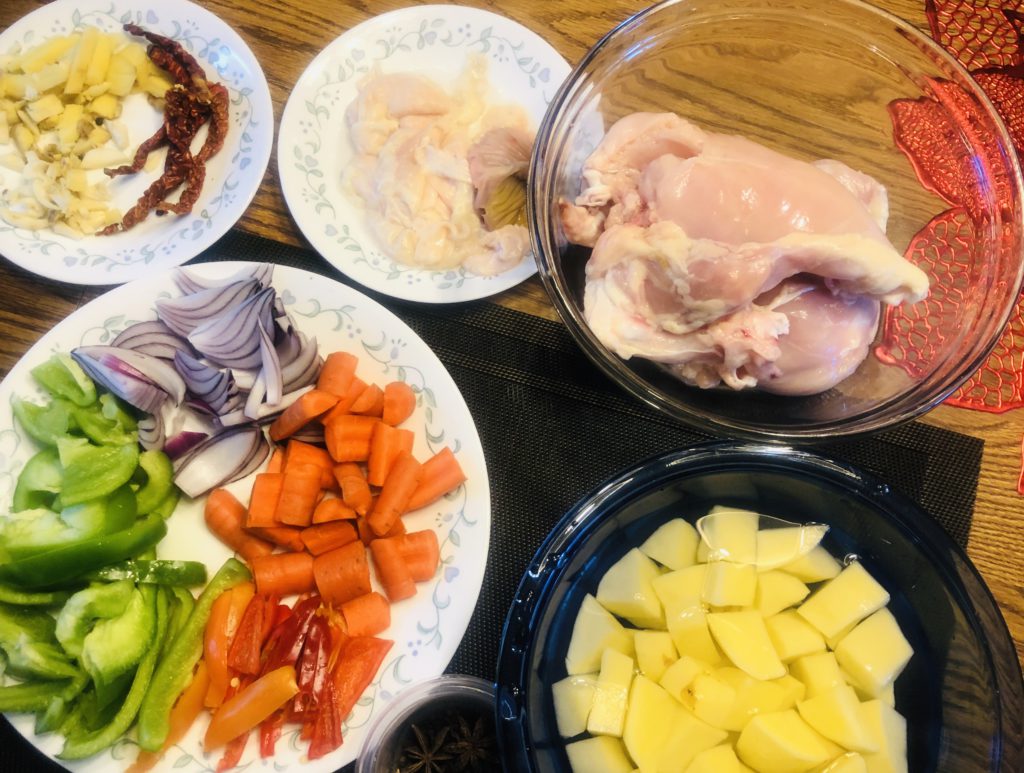 Cut the fat to be small pieces; cut the chicken to medium sized pieces.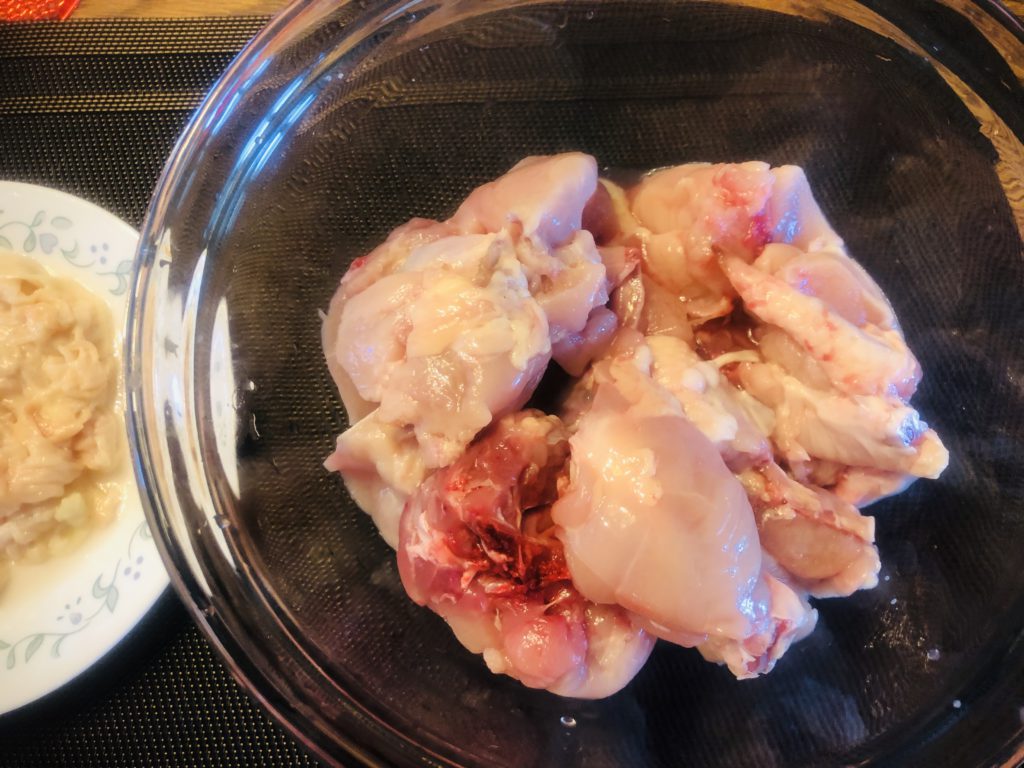 Boil the water in the pot, add 1 Tbs of cooking wine, 2 pieces of gingers. After the water is boiled, put all of the chicken into the water about 1 minute and remove them from the pot, keep the water boiling; put the chicken fat and the skin into the boiling water and remove after 1 minute. Those steps are to remove the dirt and fat.
Remove the chicken and chicken skin out from the boiled water,  drain the water out, or use hot water flowing for 5 second if you want healthier.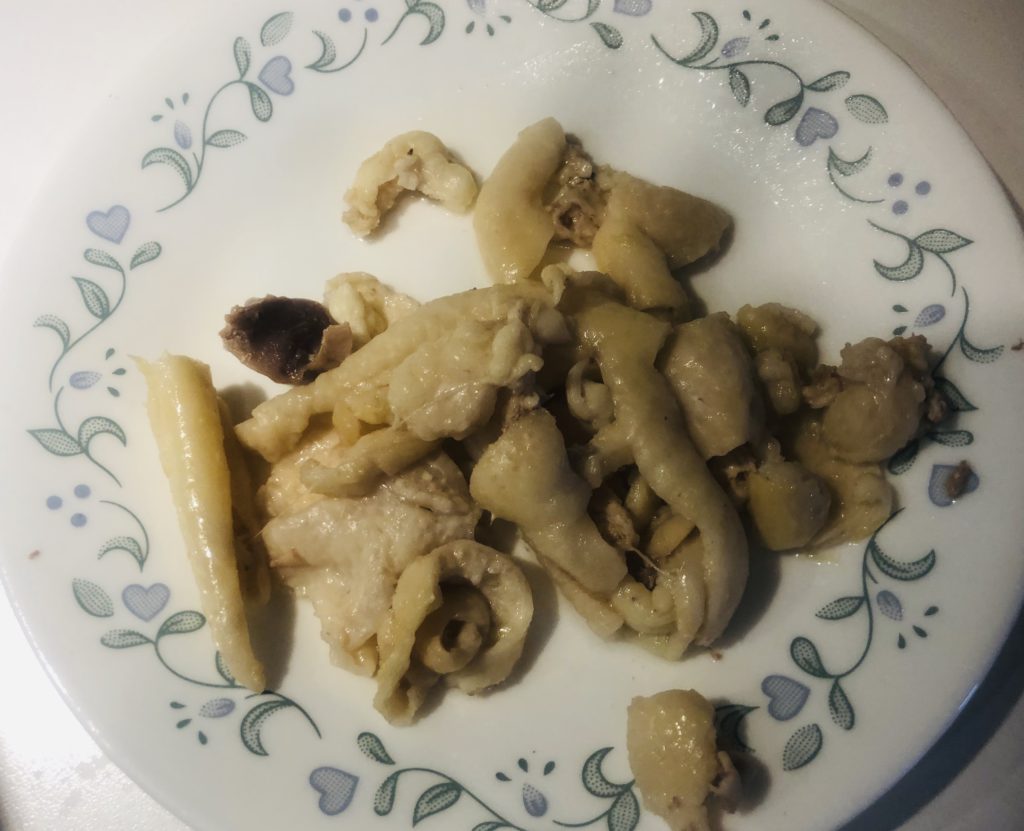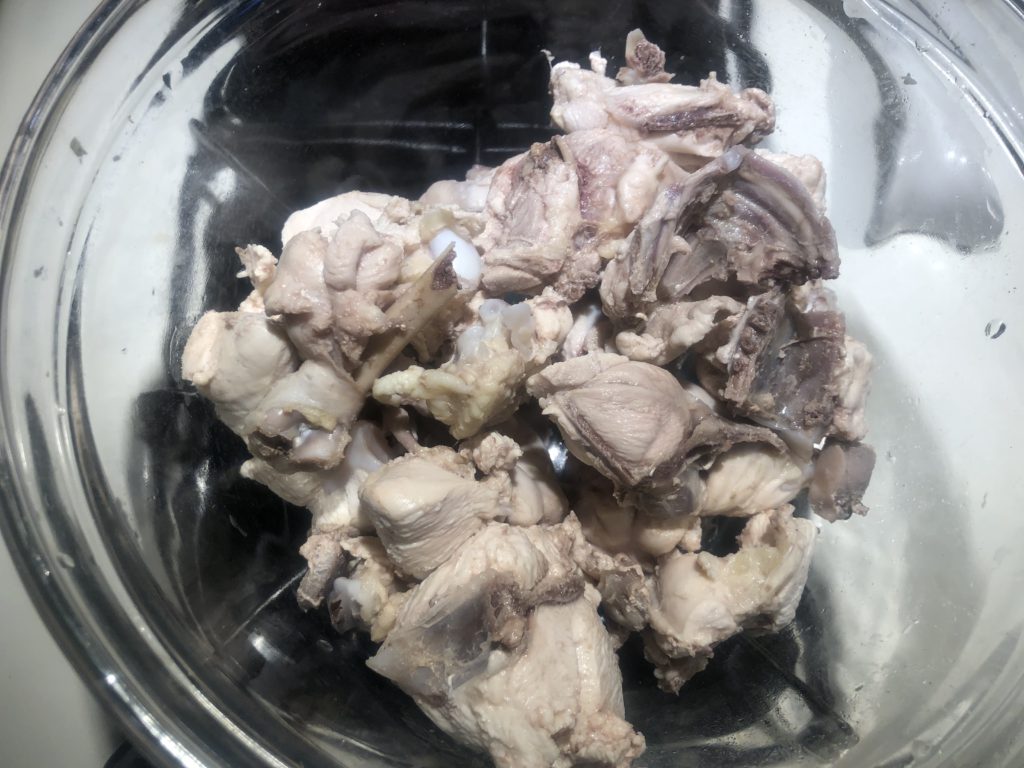 Place wok on medium heat, add olive oil to heat, turn to a medium heat, add chicken fat and skin, fry for 1 to 2 minutes and removed them in order get some chicken oil; then add pepper, star anise, dried red pepper, add in half of ginger and garlic, fry them until smell scent, or color changed, removed them from the oil.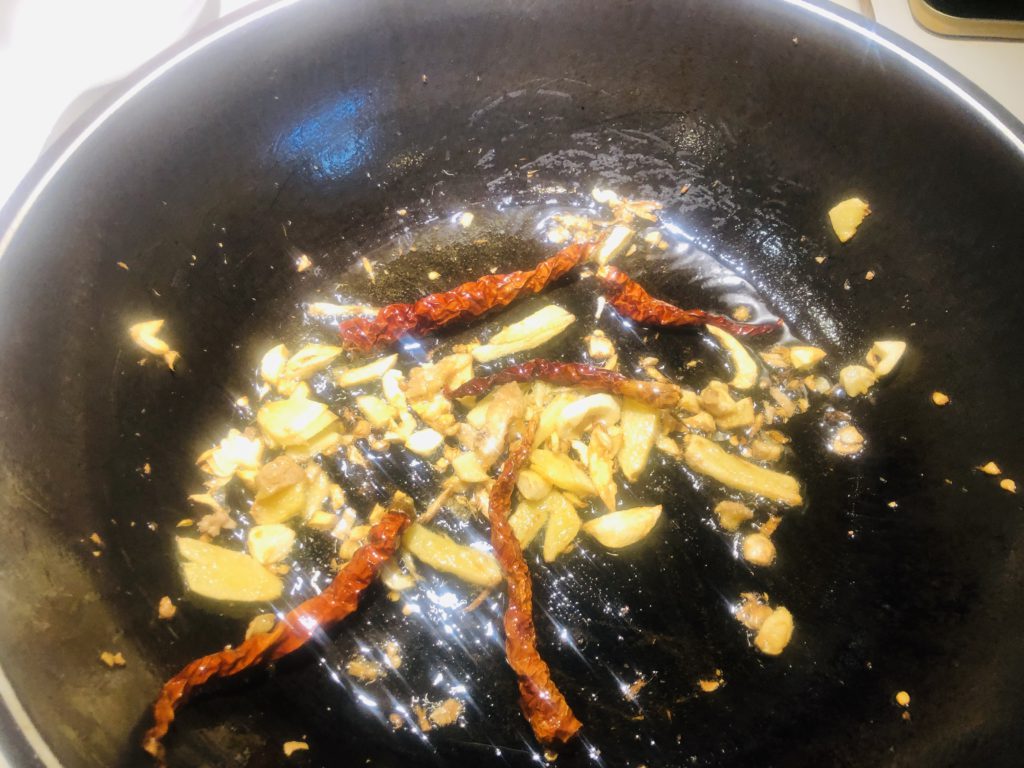 Put the rest of the ginger and garlic, smell the scent, add chicken, add wine, stir fry until the meat changes color;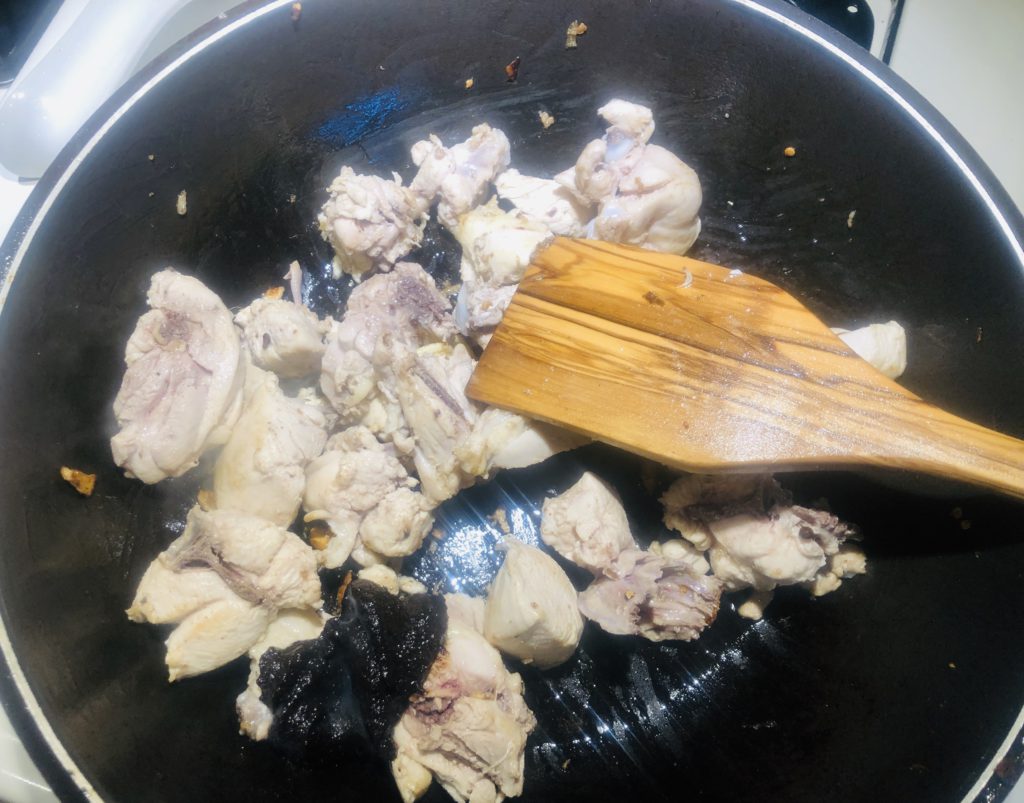 Add a spoonful of bean paste, stir fry evenly, put the potatoes in, add carrot, add some soy sauce, stir fry together. Add boiled water until the chicken is covered, add the 4 green onions, and cover with a lid. High heat until boiling and change to medium or 4/10 low heat about 20 minutes, or until the volume of the water left 1/3 of total volume.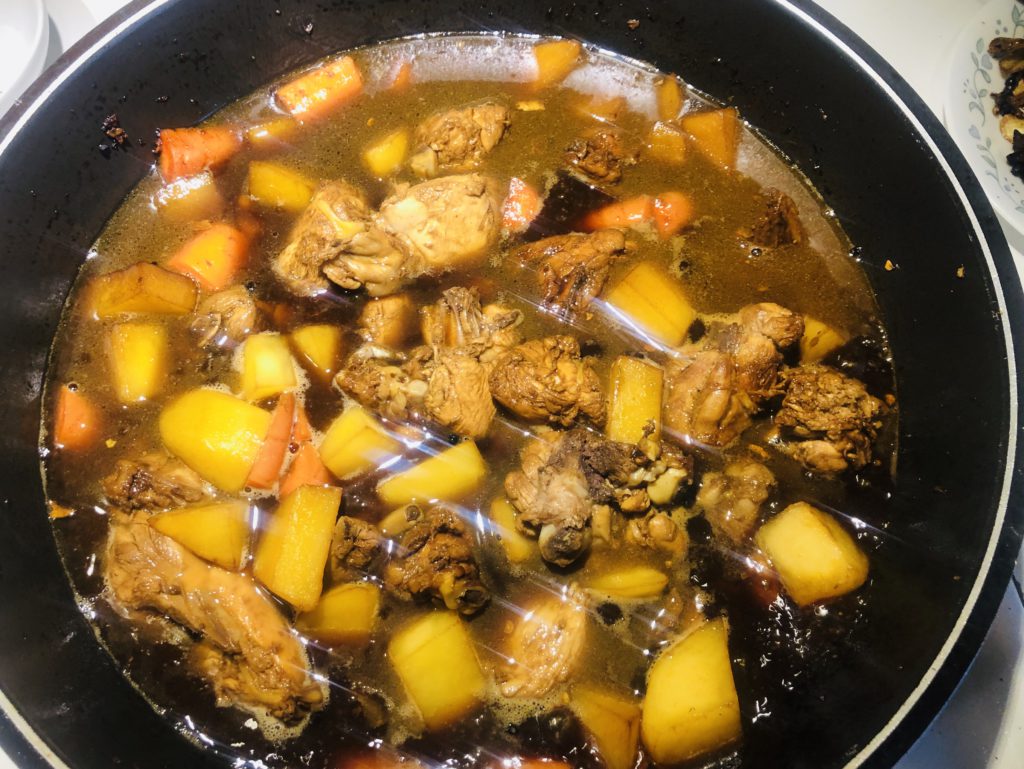 Put onion, green pepper, sweet red and yellow pepper, add salt, aniseed powder, taste the degree of the salt, and adjust the salt a little.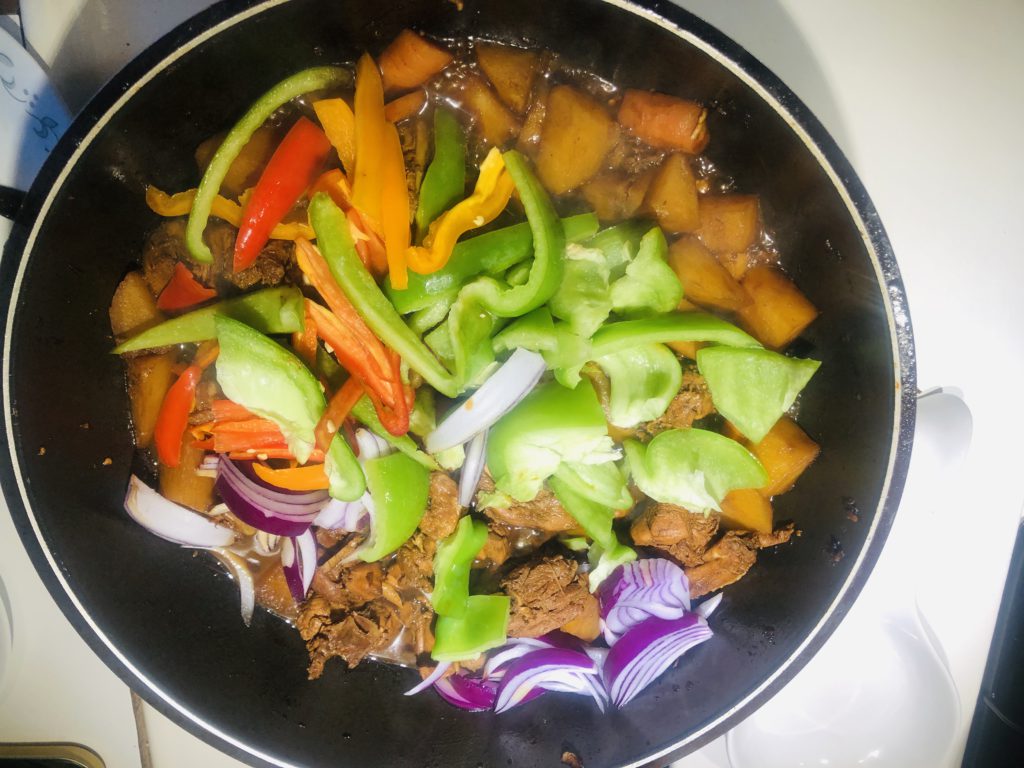 Continue stew cooking for 5 minutes. Watch the juice rest about 1/4 t/5 of the total volume, if it is too dry, add a little water. Add a cut green onion.
Carry out for serving.  Yay! Done!
Tip:
 if you like eat spicy food, you can add more red dry peppers into the wok to fry.
if you don't like use chicken with bones, you can remove the bones of chicken before you cook.