Introduction:
The purslane pancake recipe is a quick easy healthy dinner recipe. Purslane wild vegetables can be collected in your garden or roadside. It also is the cheapest price with richer ingredients. Purslane food is a healthy food.
Time: 20 minutes                      Serve:  2 persons
Ingredients
3 hand full of the purslane.
2 eggs
2 green onion
1/4 to 1/2 tsp salt
1/2 tsp sugar
¾ to 1 cup of all-purpose flour.
1/2 tsp of pepper
1/2 tsp of Star Aniseed Powder
1 tsp of sesame oil
Direction:
Wash the vegetable thoughtfully with water, and drain out the water;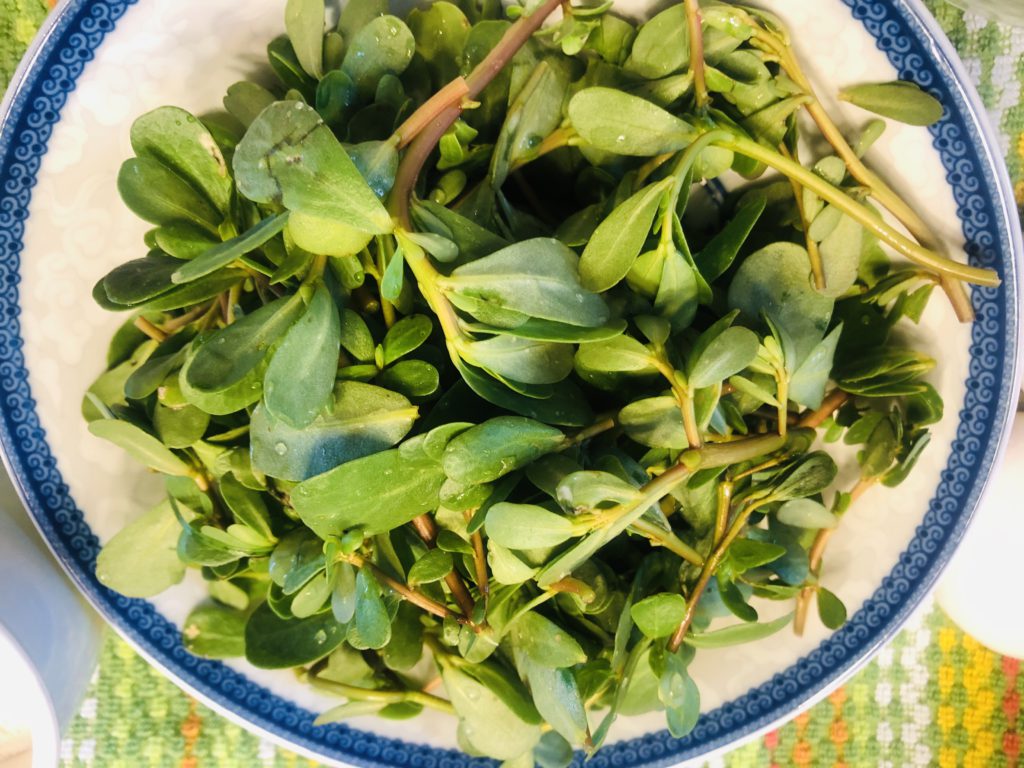 Cut the vegetable into small pieces;
Put in a container,  add 1 cup of flour, 2 scrambled eggs,  1/4 tsp salt, 1/2 tsp of sugar, 1/2 tsp of pepper and 1/2 tsp of Star Aniseed Powder; 1 tsp of sesame oil.
Mix with chopsticks or mixer, make the ingredients look like paste thick, may add a little water or less.
Put a pan on the stove and turn on with medium heat or electric baking pan, add 1 tbs. olive oil or vegetable oil.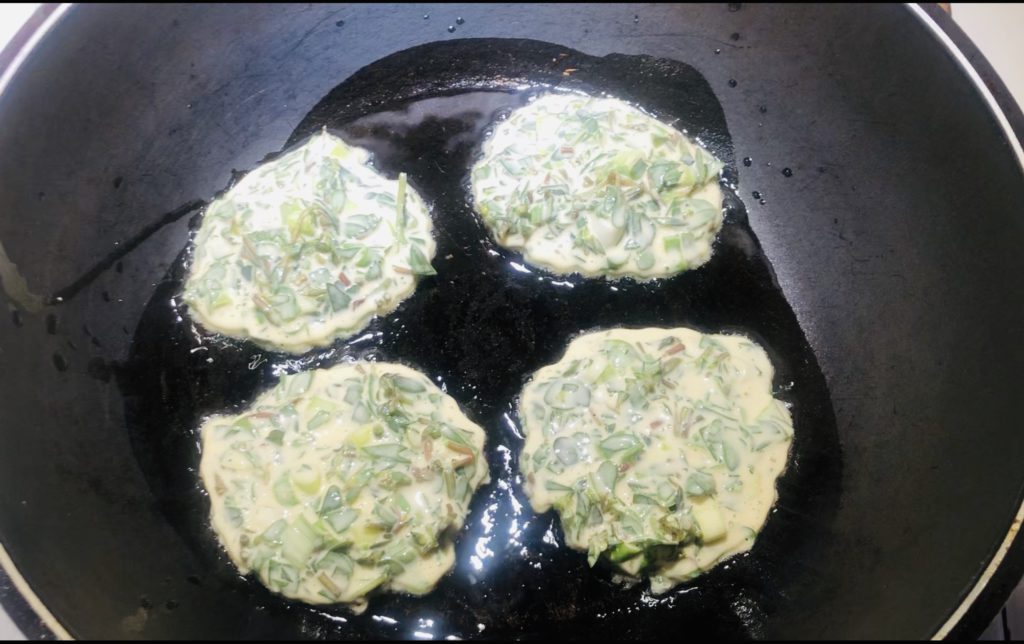 Use an ice cream scoop or cooking spoon, take a scoop of purslane batter into the pan with a slow circular motion.
Cover with the lid, slowly fries for 2 minutes, then move a little and cover the lid again for another 1 to 2 minutes; then open the lid and flip over by using a cooking shovel, also watch if this side cook enough. Then cover lid for 1 minute, or open lid to cook, move a little to prevent over cooking until the side (side 2nd) cooked enough.  If the side one was not cooked enough, turn over again to recook it until well done.  The key thing is to need to move a little if the crepe formed.
After both sides cooked well, the delicious purslane cakes will be ready for your dinner.  It can add some fruit on the dish. Well done! Good job!
Tips
All-purpose flour:  you can use glutinous rice flour if you are allergic to flour. it may too soft and hard to flip over without falling apart, so you can mix all-purpose flour with some glutinous rice flour. The taste is good, too.
Tips for making the edges on pancakes crispy. You choose any of them or all of the below processing methods.
Adjust the batter to be consistency by adding a little more flour in to mix your batter.
Adjust your heat. You can increase your heating temperature. High heating cook the outside fast and inside slowly. However, you don't want to burn it!
Always to move it while cooking to prevent burn and being crispy. Let say every 30 second. Move it when you see it dry in the bottom, you can use both of small wooden spatula and medium wooden spatula to move or turn over your pancakes you also can use two of them to move it a little and turn over until the edges on pancakes crispy.
Add a little more oil from the edge during cooking to prevent burn if you adjust the high heat.