General Tso's Chicken is sour, sweet and mildly spicy taste cuisine of chicken. It is a popular dish in the United State or in the world. If you like Chinese food, you may be interested in the story of General Tso's Chicken.
Who is General Tso?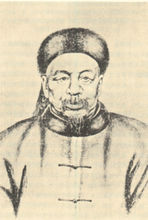 General Tso is Zuo Zongtang in Chinese. Zuo Zongtang was in Qing Dynasty, from November 10, 1812 – September 5, 1885, Hunan Xiangyin. In the late Qing Dynasty, he was a minister, a strategist, a politician, a famous general of the Xiang Army, and one of the representatives of the Westernization Movement. Together with Zeng Guofan, Li Hongzhang, and Zhang Zhidong, they were called "the four famous ministers of Zhongxing in the late Qing Dynasty".
Who created the general Tso's Chicken?
A chef, Peng Changgui was the inventor of Zuo Zongtang Chicken or General Tso's Chicken. In 1952, the United States sent a commander to the Pacific Seventh Fleet, General Arthur Redford, to visit Taiwan for four days. The Ministry of National Defense appointed the commander of the Navy, Liang Xuzhao, and Liang Xuzhao asked Peng Changgui to study the menu of Redford. On the third day, Peng Changgui cut the chicken into pieces, first fried and then fry, and served with a special sauce to make a new dish. The eater praised its delicious taste and asked the name of the dish. Peng Changgui replied "Zuo Zongtang Chicken". This name was inspired by the fact that the guests were all generals at the time, and Zuo Zongtang was a general of the Qing Dynasty, who participated in the siege and annihilation of the Taiping Heavenly Kingdom and calmed down the transformation of Xinjiang. He is from the same hometown of Hunan as Peng Changgui, so he thought it was the name. if you want read more, please reference.
How was General Tso's Chicken popular?
In the later year of 20 century, Peng Changgui moved to New York City, United State. Due to the delicious taste of the cuisine of General Tso Chicken, more customers came to eat such dishes, even the famous person, such as Ji Xinji. This cuisine has become famous because of special reports in some media. As time went by, General Tso Chicken is a famous Chinese cuisine in the United State.